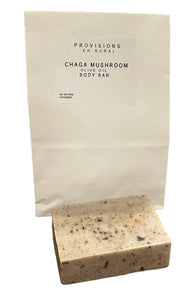 Chaga Mushroom Bar 3oz
(Inonotus obliquus) is a type of mushroom that grows mainly on birch trees in Upstate New York. 
It is believed that Chaga has healing and tonic effects on the body. Chaga contains Betulonic acid, which is well known for its ability to support skin growth. It can help restore and regenerate skin cells to help bring back a more natural, youthful look. The Chaga mushroom also stimulates collagen production, a protein that can hydrate and refresh all skin types.